Swiss is a federal republic located in central Europe and is bordered by Italy to the south, Germany to the north, France in the west and Liechtenstein to the east. It spans an area of about 15000 sq.miles and with a population of about 8 million people. Switzerland experiences many visitors all year round from all over the world who especially come to view the Alps and its environs. Some of the best places in Switzerland include:
1. Lake Geneva
It is among the largest lakes in Europe approximately 224 sq.miles. The lake is formed by the Rhone river. It has an attractive crescent shape. From the lake, one can view the scenic Chablais Alps from Caux. It has a surface elevation of 372 meters above sea level. Yacht racing is popular.
2. JungFrau
This is a mountain in the Alps. It is situated in the middle of the canton of Bern and the northern canton of Valais. It has a massive wall towering above the Bernese and the Swiss plateau.
3. Swiss Alps
These comprise all the mountains over 2000m above sea level including Monterosa (4634m), Matterhorn(4478 m). The north side of the Alps is drained by Rhone, Rhine, and inn while the south by Ticino.
4. Matterhorn
It is among the largest alpine peaks and is an iconic emblem of the Alps. It rises to about 4478m with four steep faces. It towers over the town of Zermatt.
5. Chateau De Chillon
This is a castle situated on lake Geneva in the Vaud between Montreux and Villeneuve. It has about a hundred buildings that connect to become the building. It is the most iconic in Switzerland.
6. Mount Pilatus
This is a mountain around Lucerne in Switzerland and is comprised of several peaks with the highest at 2128m.
7. Jungfraujoch
This is a collocated in the middle of Monch and Jungfrau. It rises to about 3466 m above sea level on the border between cantons of Bern and Valais.
8. Eiger
This is a mountain in the Alps which rises to 3970m in Grindelwald and Lauter Brunnen. It extends across Monch to the Jungfrau. It is frequented by mountain climbers
9. Lake Zurich
This is a banana-shaped lake in Switzerland south-east of Zurich.
10. Lake Lucerne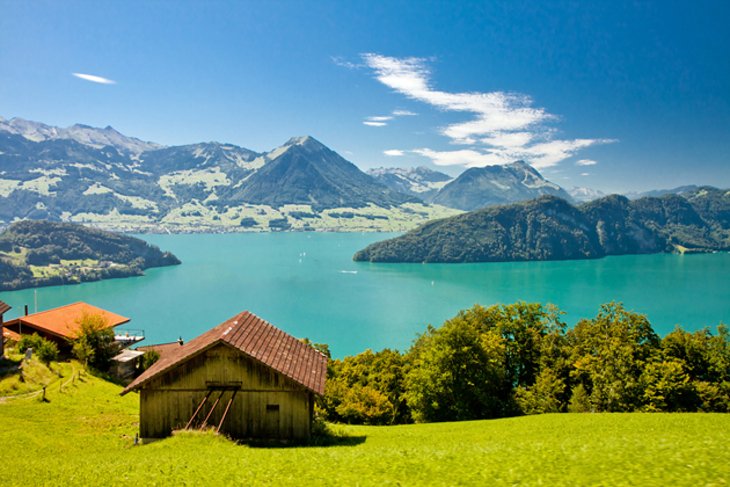 Its located in central Switzerland and is the 4th largest in the country with a total area of 44 sq miles, an elevation of 434 m and a maximum depth of 214 m and a volume of 11.8 km 3.
11. The Rhine falls
This is the biggest waterfall in Europe situated between the towns of Neuhausen am Rheinfall and Laufen Uhwiesen. They are 150 m wide and 23 m high. The average water flow is 250 m3 per second.
12. Jet D'eau
This is a large fountain located in Geneva. It jets out about 132 gallons of water per second to an altitude of 140m.
13. Swiss National Museum
Located in Zurich and has an impressive architecture with dozens of towers courts and a park on an island between rivers Limmat and Sihl.
14. Gotthard Pass
The Gotthard Pass or St. Gotthard Pass at 2,106 m is a mountain pass in the Alps traversing the Saint-Gotthard Massif and connecting northern and southern Switzerland.
15. Lion Monument
It is a sculpture in Lucerne which commemorates the Swiss guards who were massacred in 1792 during the French revolution.
Source: Euro-travels.com
Where to Stay in Switzerland ?
Our 
favorite way
 to find the 
best deals on accommodation
 is to
book directly on the hotel website.
 usually, have the best rate available thanks to our collaborators that feeds us with
Exclusive
and live
Promo
and
deals
.
The hotel MODERNE is a 3-star hotel where you will enjoy a very good quality of service in a warm family atmosphere.An Italian and a Japanese restaurant welcome you 7 days per week. Get an extra 
5% discount
 and 
Late Check-out at 1PM
(available only on the check out - made on Saturday and Sunday) in reserving Via Hotel
Website
!.
Visit The Hotel Modern Geneve Here
Overlooking the Reuss River, this straightforward hotel is a 12-minute walk from Luzern train station and a 9-minute walk from 14th-century, wooden Chapel Bridge. Relaxed rooms, some with bright accent walls, offer free Wi-Fi, flat-screens and safes, plus shared bathrooms. Upgraded rooms add en suite facilities. Some include balconies and/or river views. Suites feature separate living areas.
Visit The Tourist Hotel Here