Switzerland on a budget – impossible?
Do you want to visit Switzerland on a budget and hope to do a lot of free things?
Are you dreaming about a trip to Switzerland but are worried about the budget?
Are you one of those people who can exist on love and air alone and plan to visit Switzerland? If so, you should not worry about your budget in Switzerland and consider yourself a very lucky person.
If you are not one of those and need more in life (like I do) but are on a tight budget, I hope you are at least vegetarian, only drink water, enjoy walking and hiking, and don't care too much about fancy accommodations.
This is also not the case? Well, then this post is perfect for you, as I have some tips for Switzerland on a budget – this way you can still have an amazing trip to Switzerland and you neither have to starve or stay at the hotel all day.
Have you heard the rumor that Switzerland is expensive? Well, some rumors are not true- unfortunately, the above-mentioned rumor is.
I have visited Switzerland about eight times so far and I have slowly accepted the fact that it is one of the, if not the, most expensive countries in the world.
I remember how shocked I was when I visited Switzerland for the first time in 2009.
Now, a few years later, the situation has not changed – actually, things have gotten even more expensive. But, I have gotten kind of used to it and I actually found a few ways to save money on my annual trip (because, after all, Switzerland is kind of pretty amazing:) ).
If you do not eat meat (or have just started a diet), like to walk a lot (and hike the mountains), do not mind sleeping in your car, and only drink water, then you are probably good to go, and Switzerland on a budget will be an easy task for you.
If you are looking for more tips on how to save money on your Switzerland trip, keep reading.
Switzerland on a Budget – How to Plan a Budget Trip to Switzerland
So, here are the best tips on how to plan a budget trip to Switzerland (even if it is not a real budget trip, it can never hurt to save money, right?
Read Also: 3 Days In Switzerland: Ultimate Budget Travel Guide You Need
1) Pick Your Destination Carefully
I have noticed that the German-speaking part is by far the most expensive area in Switzerland. This includes places like Zurich, Interlaken, and Lucerne, while other parts of Switzerland are cheaper.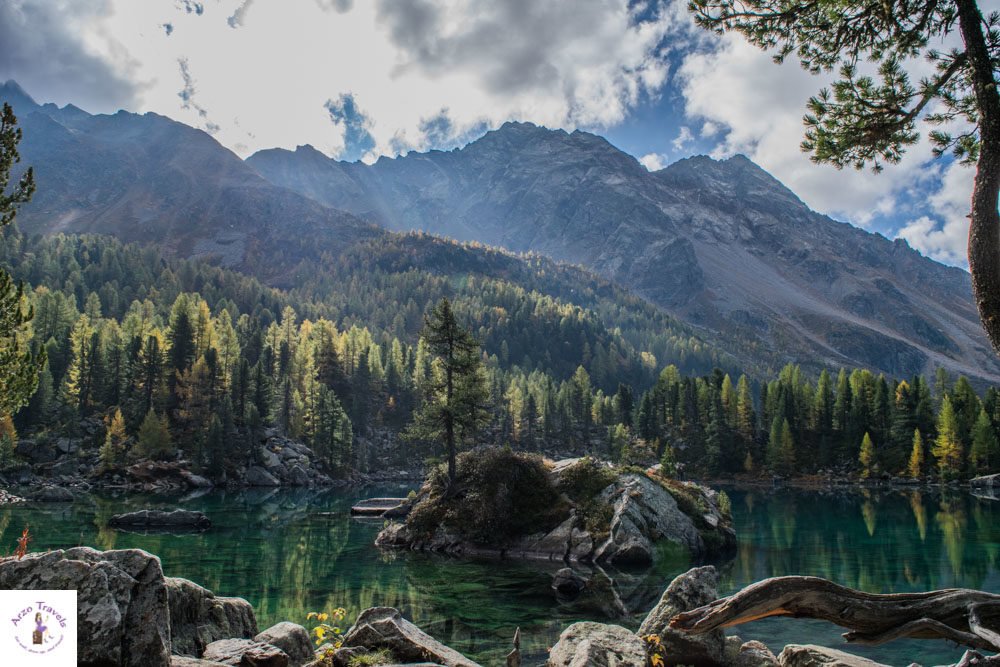 As an example: I paid around 3.30€ for one scoop of ice cream and I paid about half that price in Lugano. I do not want to start talking about Valposchiavo – one of my all-time favorite travel destinations that are way cheaper than other places in the country.
Well, apparently ice cream is not the only and most reliable indicator for the price level of a country, but it can give you an idea.
While accommodations are not a bargain in any part of Switzerland, it still makes a difference in which part of Switzerland you book your accommodation (more on that a bit later).
Food and activities are cheaper in other areas, like some French- and especially Italian-speaking parts (these are no facts but I made these experiences after visiting all parts several times, also note that accommodation in Lugano e.g. is still expensive but food, etc. is often cheaper).
In the end, almost any corner of Switzerland is pretty amazing and worth a visit, so you can save a little fortune if you are more flexible with the destination.
2) Decide When to Go
July/August and the winter months (December, the beginning of January) are the most expensive months to visit, so try to avoid visiting during those months.
As a teacher, I am not very flexible when booking holidays because I have to stick to school holidays, but if you can somehow book your holidays around that time, you might get much better prices for accommodations. After several visits in July/August, I can say that those months do not necessarily promise good weather, and bad and rainy days (or weeks) can happen, basically, at any time of the year.
Update: I visited in October 2018 and had the best weather ever. In the few weeks, I stayed there, it hardly rained (unlike some days in summer). Prices are much lower in October, so plan your visit in September/October and April to June (except when you want to do winter sports, then, of course, don't visit in these months).
You Might Like Also: 10 Simple Ways To Travel Switzerland On A Budget
3) Discover Switzerland by Foot
Saving money can also be fun – especially in Switzerland, where hiking and walking, instead of using public transport or your car, is more than a necessary evil.
Okay, I admit, I do not hike up all of the mountains, rather I get up those by taking the funicular, etc. BUT, hiking is a good option to save tons of money. If you hike a lot, you will see great places in the country and probably not have to spend tons of money on any other activities.
Update: It took me a while, but I learned to love hiking – thanks to Switzerland´s amazing scenery, hiking is a great way to explore the country!
These views can be totally free.
4) Check Whether You Can Use Free Public Transportation
Several destinations will give you a guest card – so you can use public transportation for free. It is not in all places and they offer differs. In Basel or Lucerne, you can use the regular city transportation – Valposchiavo has the best guest card I have come across. You can even use some regular train connections – it is actually one of the most scenic train rides in all of Switzerland. And you do not have to pay one extra cent (or as they say in Switzerland "Rappen").
So, it might make sense to book an official accommodation in certain areas (sometimes Airbnbs also offer guest cards when it is an official guest house).
5) Look for Free Activities
If you want to do more than just hiking, there are some free activities, like the free walking tour in Interlaken. Sometimes, you need to dig a bit deeper, but there are enough activities that don´t cost a dime. You could have the best views in Switzerland if you are willing to hike a bit e.g. and this is a free thing to do in Switzerland but also fun at the same time.
6) Pack Smart for Your Switzerland Trip
Pack wisely and buy everything you (might) need in your own country, as you definitely do not get anything cheaper in Switzerland (even Swiss chocolate is more expensive in Switzerland than it is in Germany). Double-check if you have your luggage, electronics, etc. so you can enjoy the most expensive street in the world without going broke yourself. So buy all your important items before.
Check Also: Switzerland On A Cheap Budget
7) Save Money on Accommodations
Hotels
Seriously, accommodations are extremely expensive in Switzerland and might be one of your biggest costs – the truth is that not only are the great 5-star hotels expensive, but so are the smaller, budget hotels.
If you have found this page, you are probably a travel addict (like me) or you are planning a trip in the near future.
There are two options to avoid costly hotel rooms:
Look for accommodations a bit offsite of the most popular tourist places and avoid accommodations within 100 kilometers of popular places ? Just kidding, 50 kilometers should be enough.
Switzerland has a great public transport system, and if you travel to Switzerland by bus, you should not be booking a room in the touristy places (like Lucerne). Graubünden, an extremely beautiful area, also has some cheaper places to stay, so doing some research on your accommodation is worth it.
Book Accommodation via Airbnb
Airbnb can be much cheaper than hotels. If you have not used Airbnb before, you can check out my post on how to use Airbnb for the first time.
However, I would not say that Airbnb is necessarily a bargain either, but it gives you the option to cook for yourself and save money.
If you really want to save money, you could try Couchsurfing, which is free for people to use, but I have not actually tried it yet and probably will not.
Airbnb in Switzerland, cheaper than hotels and more unique
8) How to Save Money on Food in Switzerland = Go Veggie and Cook Yourself
Food in Switzerland is quite expensive (I know, it is getting quite repetitive), but sometimes the price is justified by the quality.
Meat is extremely pricey, and though I have not actually seen a Big Mac, which supposedly costs $20 (as I have heard), meat is always expensive – but in this case, you get what you pay for. Meat from Switzerland is not mass-produced (if it is foreign meat it has to be declared). A McDonald's menu is around $20.
However, the best advice would be to reduce your meat and dairy consumption during your Switzerland trip.
Prices for pasta, etc. are still okay and if you book accommodation with self-catering, you can go shopping in the afternoon, as there are many discount prices on fresh vegetables and fruits.
Some supermarkets are extremely popular in Switzerland, like Coop, but if you want a real bargain, then shop at Aldi or Lidl. Swiss people seem to have a big aversion and it is more popular among non-Swiss, but seriously, those prices are hard to compete with.
If you are on a budget, try to book via Airbnb or other platforms, where you can cook your own food.
9) Bring Your Own Bottle and Drink… Water
Here comes the part where I do a happy dance each time I am in Switzerland.
Fortunately, Switzerland does a pretty amazing job with its little fountains everywhere.
I am a lucky person since I mostly drink water and no alcohol. Are you the same? Just get a refillable water bottle and refill it wherever you are. Water fountains can be found everywhere (even in the mountains, in the city center, or in small villages) and often the freshwater tastes better than the water you buy in the bottles.
Fun Fact: I heard that those fountains in the Alps were originally set up for the cows who were moving from the Alps back to the farms, so they would have fresh water along the way. However, I am not sure if that is actually the case. If so, I would like to thank the cows, not only for their
If so, I would like to thank the cows, not only for their milk but also for the water.
I do not drink much coffee, but treat myself with one cappuccino a day – I often pay about 5, 6, or even 7€ for one cappuccino. Even take-away coffee is expensive.
However, I have found cappuccinos for 3€ (mostly in the Italian-speaking part or in less popular tourist spots).
For people who drink several cups a day, instant coffee might be a solution (I admit, it is not the very best).
10) Get Some Swiss France
Euros are excepted in most parts and many shops etc. so it might be convenient to not exchange some money.
However, if you pay by € the exchange rate is not good so get yourself some Swiss francs.
11) Check out Coupon Books
I mostly travel solo so I never needed that but there are some cool 2 for 1 coupon books, which might help you save a lot of money.
There are also regional coupon books (e.g. for Interlaken, Zurich, and several other places), so check out if they will help you saving money.-
12) Check out Travel Passes
It might sound weird but spending a lot of money on travel passes can help you save even more money.
I had the Swiss Travel Pass with which you can not only have unlimited train and boat rides, but it also gives you 50% on many mountain cable cars/funiculars and with the Swiss Travel Pass you can even use some mountain funiculars for free. When you will see the price first, you might be surprised that I suggest it as a "saving money tip" – but if you plan to get up Mount Rigi and use train several times you might save a fortune!
There are also regional travel passes like the Jungfrau Travel Pass, which gives you the option to save tons of $$$ (after spending a bit).
I hope this post did not scare you away from Switzerland and you still want to visit this country. I actually dislike any kind of nationalism and I do not want to encourage the Swiss to be overly proud of themselves, but damn, this country is just beautiful, and it is worth it to make some sacrifices if that means being able to visit it! To travel to Switzerland on a budget is somehow possible.