When Christmas approaches, Geneva is getting ready to host a wide range of enchanting winter activities. The lights illuminate the streets of the city, the smell of home-made glue wine floats in the air and warm chestnuts are delightfully enjoyed by the locals. We suggest you the best things to do during Christmas 2019, but also the best local markets to make sure you will enjoy this indescribable warm and friendly atmosphere as much as we do.
Read also: 10 Things To Do In Switzerland This Christmas
Christmas markets are a tradition in Geneva. And this year, the city is hosting a market in the heart of the Parc des Bastions, right next to the Old Town, where the famous Wall of the Reformation proudly stands. From December 6 to 31, local artisans will introduce you to their products in this charming village. Smell the scents of gingerbread, glue wine and make your purchases and gifts under the enchanting Christmas lights.
No, you are not dreaming, a typical wooden chalet will be there to serve you delicious cheese fondues and to make you discover Swiss traditions.
Our tip: If you're already in town on December 6, enjoy the opening of this lovely Christmas market.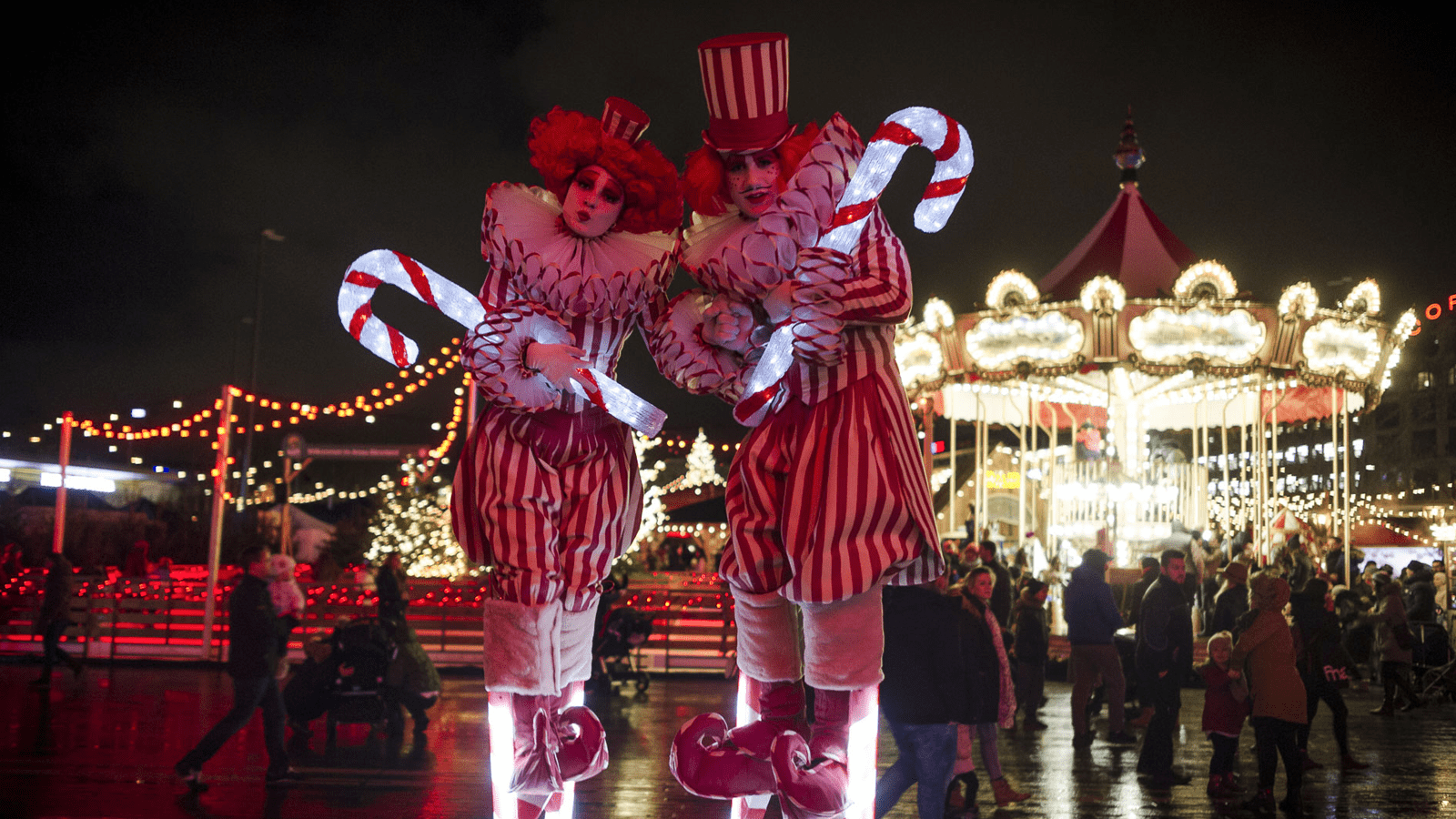 Photo credit: Noël aux Bastions
Get ready to skate in the very heart of Geneva! Several temporary ice rinks take place all over the city to entertain you during the winter season.
From November 24, 2019 to March 3, 2020, the open air ice rink in Carouge, a city with Italian roots, awaits you to watch you slide. By the way, do not forget to taste homemade crêpes or to enjoy a delicious hot chocolate to warm you up.
The Parc des Bastions also has its own ice rink where you can show off all your sliding skills! From November 17, 2019 to February 24, 2020 get ready to put on your skates!
Our tip: Many different activities are available for children and adults around the ice rinks throughout the season. Ice hockey, funny games or even ice-skating shows: there will be something for everyone!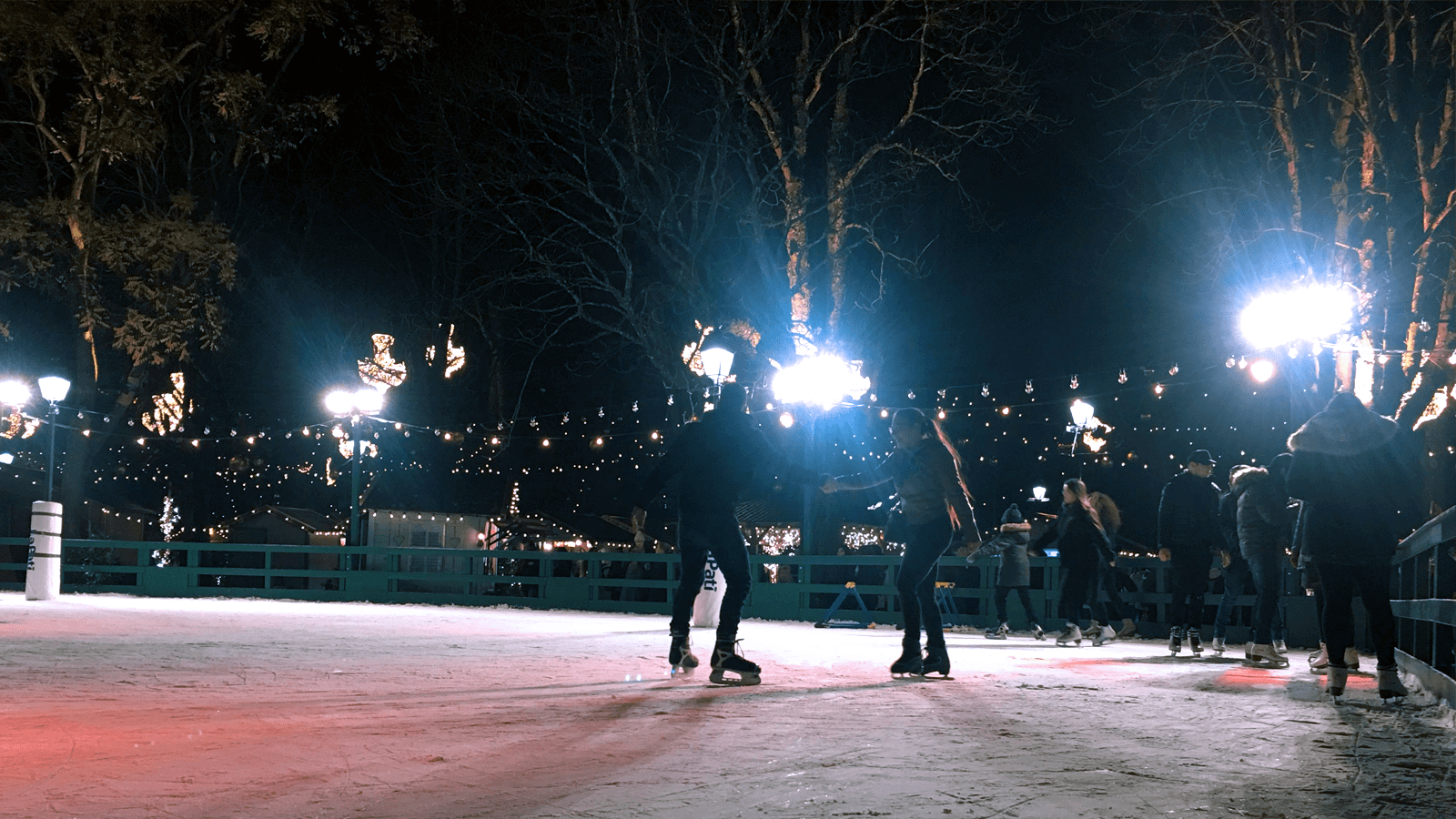 Photo credit: NA
Chocolate is happiness, it is a delight and it is also a delicacy that we like to taste or offer to those we love when Christmas approaches. To warm you up during the winter season, what could be more worthwhile than visiting Geneva while enjoying award-winning chocolates? This is what the Local Flavours Tour offers you.
For 3 hours, you can explore Geneva, its monuments and its most secret places, while treating yourself with chocolate specialties and discovering surprising food traditions. Your local guide who is passionate about Geneva will accompany you throughout this delicious city tour. Also, get ready to savor the best hot chocolate in town in a prestigious place!
Our tip: It's, of course, friendly advice, but don't eat too much for breakfast in order to keep room for the many Swiss chocolates you will enjoy during the tour.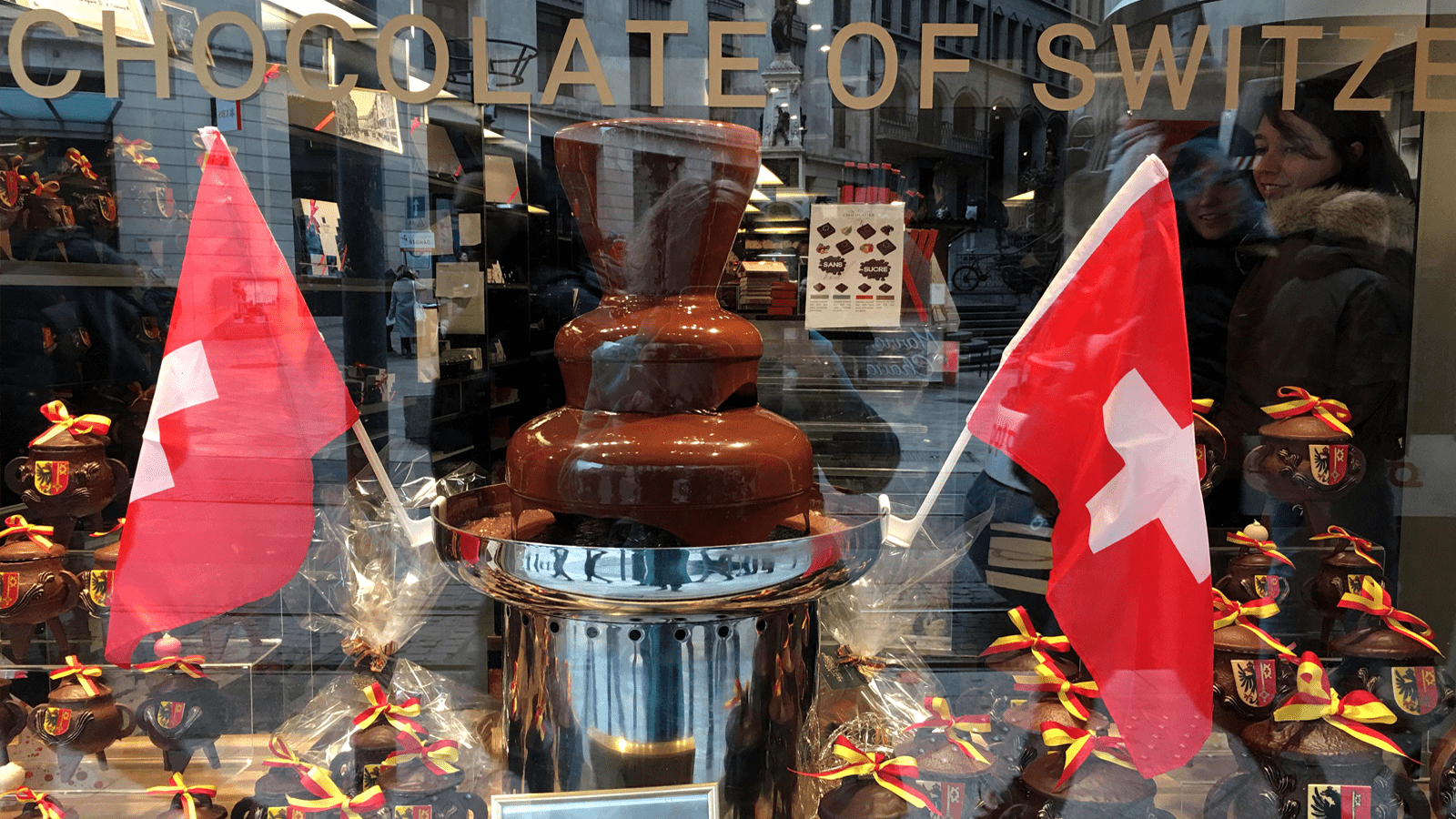 Carouge is a lovely city within the city. There, you can feel a mediterranean atmosphere floating all year round thanks to its Sardinian roots. During winter, the Christmas market that takes place on the Place du Marché and its surroundings, further embellishes the cobbled and discreet streets of Carouge.
On December 7, 8 and 9, 2019, do not miss the opportunity to take a walk and prepare all your Christmas gifts in advance to surprise your friends and your family with local and traditional presents that you won't find anywhere else. Wines, chocolates, teas, handicrafts: there is something for everyone.
Our tip: On Sundays 2, 9, 16 and 23 December 2019, the shopkeepers of Carouge open their doors to let you enjoy and shop their products and even to make you taste some of them.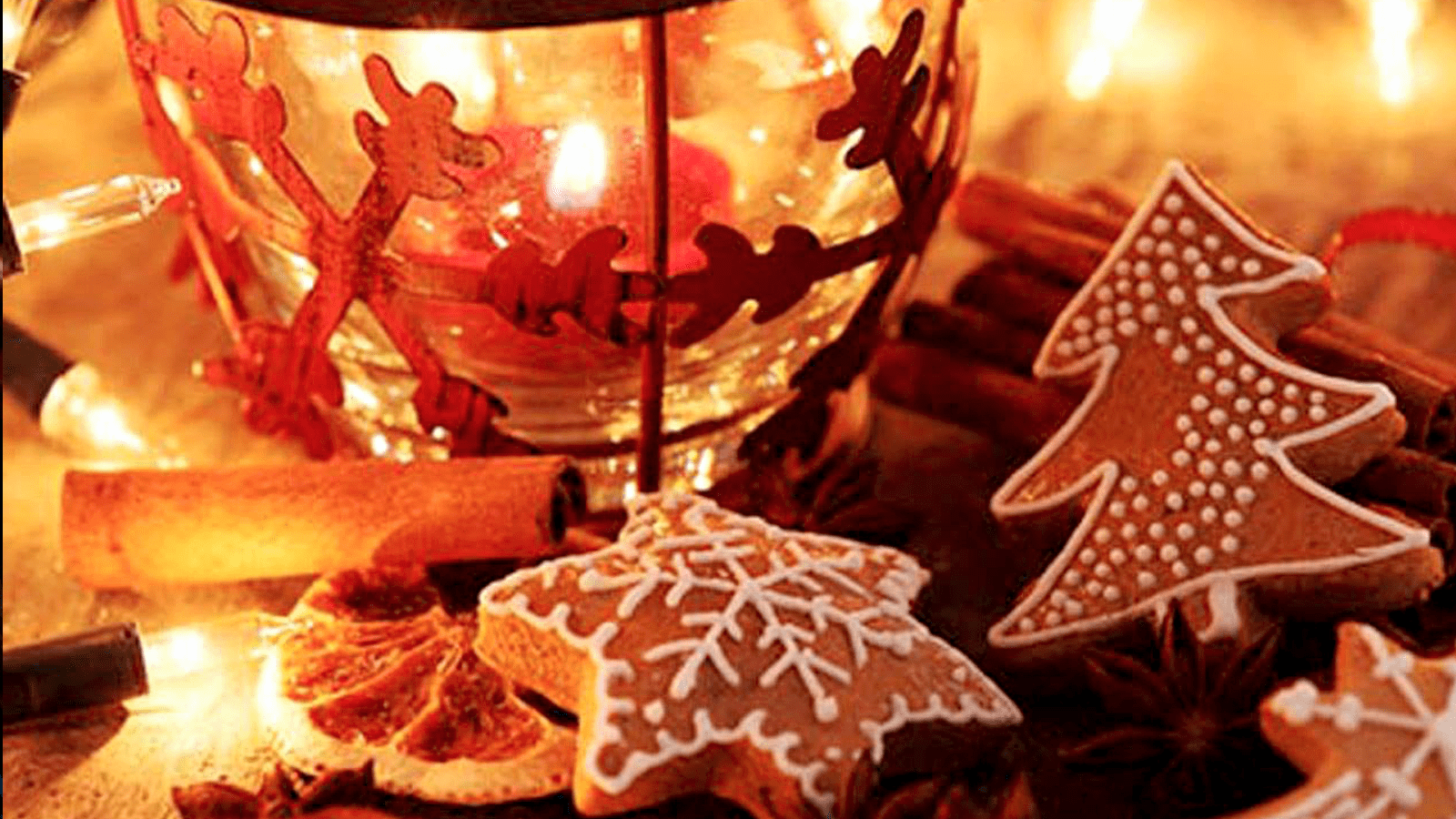 Photo credit: Geneve.com
Top 3 coffee & tea afternoon
In Geneva, winter can be particularly cold, and this gives you plenty of reasons to enjoy delicacies that will warm your body and your heart. Here is our TOP 3 of the places where to appreciate a perfect afternoon tea & coffee.
For enthusiasts about this royal tradition, the luxury Hôtel d'Angleterre located on the shores of Lake Geneva will definitely seduce you. Between 3pm and 6pm, scones, small sandwiches, cheesecake or homemade pastries are served with a wide selection of teas or, why not a glass of champagne for an even more exceptional experience.
The Martel tea-room is a place where you will simply feel good. Pastries, salty delicacies or even colourful cakes are just D-E-L-I-C-I-O-U-S. And for those who prefer to brunch at any time of the day, we definitely recommend you the unrivaled veggie club-sandwich!
Finally, La Clémence, a café-bar located at the Place du Bourg-de-Four, in the Old Town, is an unmissable establishment in Geneva. Its large terrace is open all year round and blankets are even available to make sure you're not cold. A delicious coffee is served here, while enjoying the lively but relaxing atmosphere of this historic place.
Our tip: La Clémence is also a bar that serves excellent cocktails for the aperitif and during the evening. So, don't hesitate to experiment it by night!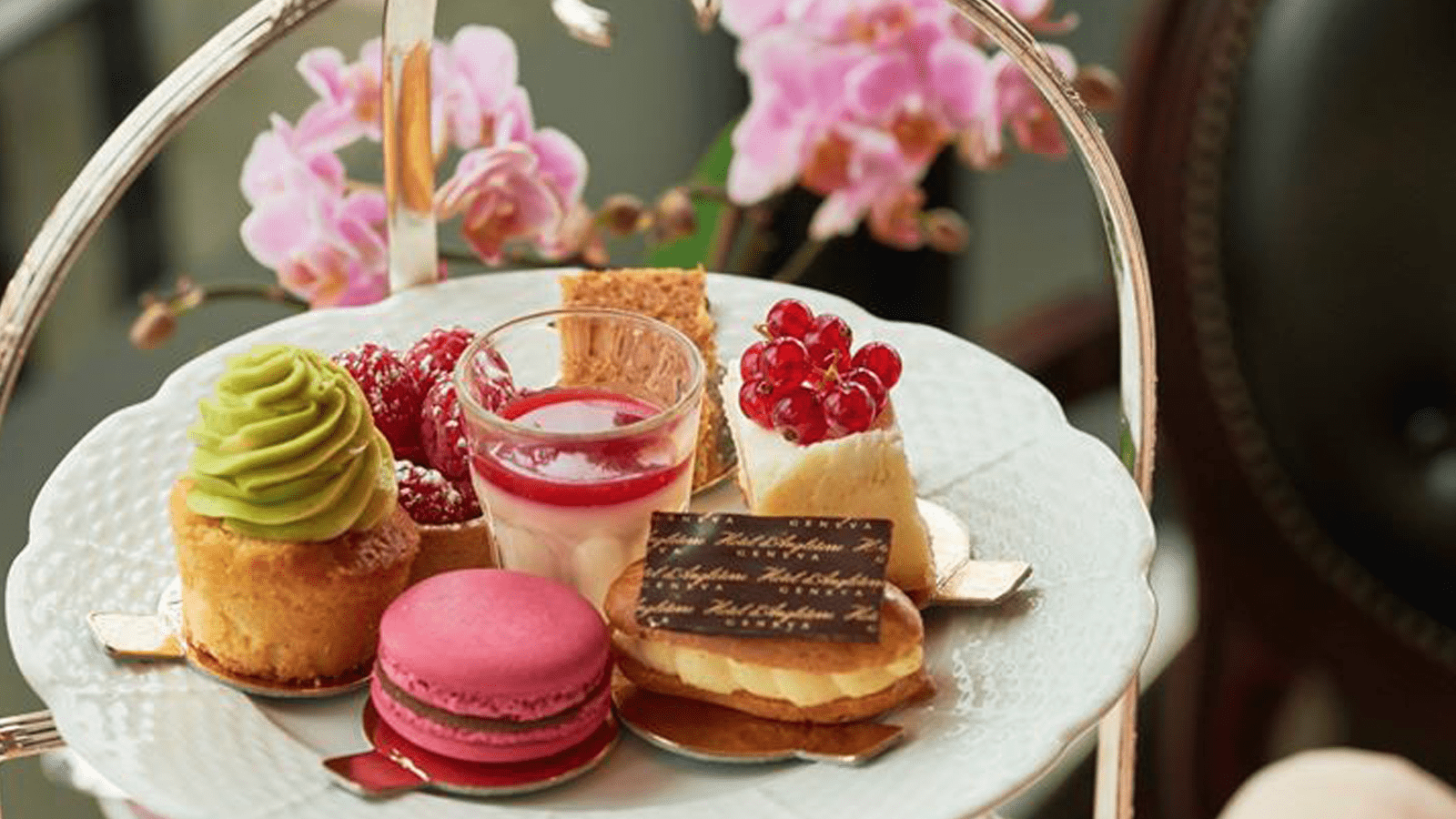 Photo credit: Hotel d'Angleterre Geneva
Every Friday in Geneva, from 7:30 pm, you can embark on a boat and enjoy a two-hour cruise while tasting a classic cheese fondue. Thus, you will experience an idyllic and romantic setting while savouring this typical and unrivaled Swiss dish. Thanks to this unique cruise, you will benefit from the most beautiful panoramic terrace in Switzerland!
So, are you ready to get on board?
Our tip: If you would rather eat meat, don't hesitate to try the Chinese fondue, a convivial dish that is particularly popular in Geneva during the winter season.
Source: localflavourstours.com